---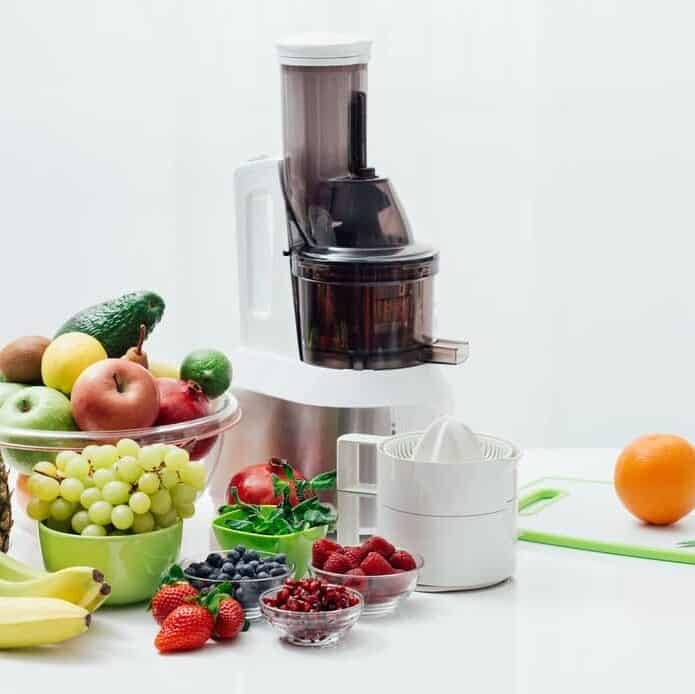 Nothing can match the freshness that you get after drinking a healthy and rich glass of juice when you get out of bed. People who are serious about their health can agree on one thing; homemade juice is way better than the ones you buy from a store.
And if you want to get the most nutrition out of the juice you make, you want the best masticating juicer. Although these units are a bit pricier than centrifugal models, when it comes to something you consume, skimping out is never an option.
Despite the sentiment, though, not everyone can afford to spend thousands of dollars on a juicer. But if you do your research and look hard enough, you can find many excellent options without breaking the bank. Doing the research, however, can be a grueling task.
In this article, we will do all the hard work for you, giving you a complete rundown of everything you need to know about the top masticating juicers you can find on the market.
Our Top Picks (In 2021)
A Quick Comparison of Our Favorites
Best Masticating Juicer Reviews
Whether you are getting your first juicer or replacing an old one, you need to do proper research on the best products available on the market if you want to end up with the right one. However, because of the ever-increasing number of units, it can be a tough task even for someone who knows a fair bit about this type of device.
To make the job easier on your part, here are our picks for the ten best masticating juicers that will help you prepare a healthy and nutritious glass of juice any time you want it.
1. Aicok Slow Masticating Juicer
We will be starting things off with an excellent option by the brand AICOK. If you are looking for the best masticating juicers under $200, then this is the pick for you. Its blend of price and performance is hard to beat.
This unit features an innovative spiral system that ensures higher juice yield and nutrition percentage with minimal oxidation. As a result, you will be able to prepare healthier drinks that you can even store for later consumption.
Its blade has a slow RPM of only 80 that extracts all the essential enzymes and minerals from the fruits and vegetables. Because of the slower rotation, you also do not need to worry about any unnecessary heat or friction affecting the durability of the machine.
The unit also comes with a pulp separation function that ensures you have an enjoyable drink if you do not like the taste of pulps. Its low noise operation allows you to prepare juice any time of the day without disturbing others.
Pros
Minimal heat and friction while operating
Low noise output
Available in five different colors
Offers excellent value for the price
---
2. AMZCHEF Slow Masticating Juicer
If delicious and healthy juice is what you are after, then you should settle for nothing but the best. This unit by the brand AMZCHEF is one of the best slow juicers in the market, giving you a lot of excellent features to work with.
For instance, the two different speed modes in the machine let you work with different types of fruits and vegetables. When juicing tender fruits like grapes or cucumbers, the "Soft" mode is a perfect choice, while the "Hard" mode works better with apples or gingers.
It also minimizes oxidation allowing better shelving of the juice when you are done preparing it. You get a food-grade silicon cover for the jar that further ensures proper test for up to 72 hours of storage.
The unit also features a reverse function to unclog the juicer if fruits or vegetables ever get stuck. Its compact design takes up minimal kitchen space while offering a lasting performance because of its strong build quality.
Pros
Sturdy and durable construction
It comes with two portable bottles.
Dual speed modes
Easy to clean
Cons
The chute is a bit narrow
---
3. Dash DCSJ255 Compact Slow Extractor
If you are a fan of frozen treats and smoothies, getting the best cold press juicers might be the right idea. This unit by the brand Dash comes at a laughably affordable price and offers just enough functions to make juices without any hassle.
To be fair, the features that this unit has are quite amazing for its price. For example, it has a pulp separation feature that allows you to separate the pomace without compromising the nutrition and healthy minerals from the fruit.
The package also includes a frozen attachment that lets you make delicious frozen treats like sorbet and cocktails easily. Now you can start off each day with a healthy frozen drink in your hand.
It is a small and compact juicer that takes minimal space on your kitchen counter. For the size, it is surprisingly durable and is an excellent choice if you are looking for the best budget masticating juicer.
Pros
A highly affordable price tag
It comes with a frozen attachment
Compact and durable design
Pulp separation function
Cons
The pulp spout can get clogged if you are not careful
---
4. AMZCHEF Professional Cold Press Juicer
For our next product, we will be looking at another offering by the brand AMZCHEF. If you want the best masticating juicer under 150, this might be the perfect option for you.
This unit features a durable slow sped motor along with a fine grinding blade to give you the purest juice with the highest density of minerals. Because of this process, oxidation is also quite minimal.
Another excellent quality feature in the unit is the Intelligent Protection Chip that automatically shuts off the juicer after 20 minutes of usage. As a result, the motor will never be stressed enough to cause any problems in the long run.
It also comes with a reverse function to get rid of any clogs while juicing. It is easy to clean and has an excellent pulp separation mode to extract pulp without reducing any of the nutrition from the fruits.
Pros
Sturdy build quality
It comes at a very affordable price.
Features a seven-segment spiral extraction system
Easy to use
Cons
No variable speed options
---
5. Jocuu Slow Masticating Juicer Extractor
Jocuu is one of those brands that you cannot ignore when you are out in the market for a high-quality juicer. This masticating model by the brands features many of the excellent functions that you can expect from them.
The unit comes with two different speed modes allowing you to choose between a Soft and a Hard mode. With the soft mode, you can juice tender fruits, while the hard mode is for tougher produce like celery or cucumber.
Its innovative feeder chute not only allows you to remove the seed and peels for better-tasting juice but also makes it safer for use around and by children. The maximum noise of operation in the unit is around 60 decibels.
Furthermore, the unit advertises a one-touch disassembly system that allows you to quickly take it apart for cleanup. It is an extremely convenient juicer that takes minimal space and ensures you have a quality drink in your hands whenever you want it.
Pros
Sturdy build quality
It comes at a very affordable price.
Features a seven-segment spiral extraction system
Easy to use
Cons
No variable speed options
---
6. KOIOS Juicer, Masticating Juicer Machine
For our next product, we will be looking at the brand KOIOS. Often considered as the best masticating juicer for beginners, this high-quality product delivers delicious drinks full of nutrition and vitamins whenever you want them.
The unit features a 3-stage spiral warm mechanism to chop and squeeze the pieces of fruits and vegetables, extracting their rich enzymes, vitamins and minerals. So your body will get all the nutrition it craves from the prepared drinks.
Its two-speed system allows you to choose between soft and hard mode so you can juice any sort of product without fear of clogging. In addition, the reverse mode allows you to reverse the blade spin to unclog it if it ever gets stuck.
Cleaning this device is also a breeze since it can be disassembled and assembled easily. You also get a cleaning brush included with your purchase to make the task even easier on your part.
Pros
Excellent build quality
Twin speed and reverse function
Perfect juice extraction
Easy to assemble and clean
Cons
A bit on the pricier side
---
7. NXONE Slow Masticating Juicer
Coming up next is another excellent choice for people who are on a tight budget but unwilling to compromise on the quality of their drink. This unit by NXONE ticks all the right boxes as a fine masticating juicer.
 The upgraded spiral system, along with the slow spinning blade of the unit, ensures your drink contains all the right minerals and vitamins. It also reduces the amount of oxidation, letting you store the drink for later consumption.
This device gives you a choice between three different speed modes to yield the optimal amount of juice from any fruit or vegetable. It is truly a versatile unit giving you full freedom and control over the quality of your drink.
Combining an excellent filtration system with a reliable, long-lasting motor, you are fully protected against clogs and leakage. On top of that, the motor is extremely quiet, which means less noise when you are preparing your drink.
Pros
Powerful and quiet motor
Innovative filtration system
Strong construction quality
Three different speed options
Cons
For the price, nothing to complain about
---
8. Aicook Cold Press Juicer Machine
Next, we are looking at another compact little option for all the juice lovers out there by the brand Aicook. Featuring a reliable design and a quiet motor, this unit has all the qualities to be your favorite juicer.
Its 80 RPM slow spinning motor can yield the highest amount of juice from fruits and veggies, retaining all the right nutrients. The unit works silently with a noise floor of only 60dB and produces minimal heat and friction.
One of the standout features of the unit is its innovative auger and filter design. Because of this, there are fewer chances of clogging, and it takes minimal hassle to clean it. You can even put it in the dishwasher without any issues.
For people who would rather clean it by hand, you can use do so with the press of a button. Once detached, you can rinse it under running water and piece it together easily to make it as good as new.
Pros
Excellent motor performance
Unique filter design
It can be used in the dishwasher.
Easy to use
Cons
Some of the parts are a bit flimsy
---
9. Aobosi Slow Masticating juicer Extractor
If you appreciate the looks of your juicer just as much as the quality of the drink it produces, then this option by the brand Aobosi is the right choice. It has a stunning combination of black color with red accents that immediately grips your attention.
But looks are not the only thing where this unit shines. Its slow-spinning auger rotates at a speed of 80 RPM extracting all the right minerals from the fruits and vegetables you put inside.
It also produces less heat and friction, protecting the lifespan of the unit along with the integrity and quality of your drink. This unit also features intelligent protection chips that automatically shut off the system after 20 minutes of operation to prevent any issues.
Despite offering powerful performance, the motor in the unit is surprisingly quiet. Whether you are preparing a drink in the morning or the dead of night, the noise from the juicer will not bother you or anybody else in the vicinity.
Pros
Sturdy build quality
Stunning cosmetic design
It comes loaded with Intelligent protection chips
Easy to clean
---
10. Omega MM900HDS Slow Celery Juicer
We will be wrapping up this list of reviews with an Omega masticating juicer. If you know your juicers, you should already know of the quality you can expect from this brand. This by no means is a budget option, but if you want the best, this one is the closes you can get.
The MM900HDS is medically approved for its high-quality juicing capabilities retaining all the essential minerals from fruits and vegetables. In fact, many claims that the drink prepared using this device boosts your immune system.
For people who want the best masticating juicer for celery, this unit comes with a special end cap. With this addition, you will be able to squeeze every bit of nutrients from celery. However, make sure you do not use the end cap for other veggies.
The powerful motor in the unit is equivalent to 2Hp power despite producing minimal heat and noise. Cleaning the unit is also quite easy as it can be disassembled and assembled within a minute.
Pros
Medically approved juicer
Powerful and quiet motor
Excellent build quality
It comes with a special end cap for celery
---
Exclusive Buying Guide
When you are looking to buy the best masticating juicer, there are a lot of different factors to consider. The quality of the juicer directly impacts the quality of the drink, which in turn affects your health. So you want to cover every single aspect of the unit you want to buy.
 In the following section of the article, we will guide you through all of the features you want to consider when buying a masticating juicer for yourself.
Juice Yield
Typically, masticating juicers can extract a higher yield of juice compared to centrifugal models. But depending on the size and RPM of the machine, this amount can be even higher or lower. Keep in mind, the efficiency of the device depends on the dryness of the pulp after extraction.
However, if you prefer the taste of pulp, you do not want a model that fully extracts the juice. Instead, a model with pulp regulatory features will allow you to control how much of it goes into your drink. But if you do not like the pulp and would rather have more juice, this is not an important feature for you.
Power of the Motor
Masticating juicers are slow spinning machines. Instead of making speed its priority, this type of unit relies on motor power. Most if not all masticating juicers show horsepower equivalency in their product specifications. You want to check this section before committing to a specific product.
With a more powerful motor, you will be able to extract juice with higher efficiency. Most motors will feature at least 1.5 horsepower motor performance. But some of the high-end models can even go up to 2 horsepower. It all comes down to how much you are willing to spend on motor power.
Speed of the Juicer
Although speed takes a backseat when it comes to masticating juicers, it is still a factor that you want to consider before buying a specific unit. In this type of machine, speed is shown as RPM, and this amount is clearly advertised in the product specifications.
The average speed for most of these units lies around 80-100 RPM. Some units can even come with variable speed options that allow you to switch the RPM. With this option, you can adjust the spin of the auger to better match the type of fruits or vegetables that you want to juice with the device.
Juicer and Chute Size
Masticating juicers are typically larger than centrifugal units and require quite a bit of desk space. If you have a packed kitchen, you might want to go with a compact model that takes up minimal space. Our list of products should give you plenty of nice options in that regard.
However, the size of the juicer is not the only important aspect you need to consider. The chute size of the juicer dictates how much time you need to spend chopping down the produce to fit it. A wider chute means you can pour thicker materials, and a narrow chute means you need to make the pieces smaller.
Noise Levels
You do not want to get a juicer that makes a lot of noise. Not only is the sound annoying for you, but it also causes a lot of complaints from the neighbors. Thankfully, masticating juicers are relatively quieter compared to centrifugal juicers with their fast-spinning blades.
However, not all masticating juicers share this property. You want a model that has a low noise floor of 60dB at most. It might seem like a small factor, but once you start regularly preparing the drink, the loud noise can quickly get on your nerves. That is why investing in a low-noise juicer is important for a good experience.
Cleaning and Maintenance
If you want a hassle-free experience with your juicer, you want to buy a model that is easy to clean. Some units out there allow you to use it in the dishwasher. This can be a good choice if you do not want to spend any time with cleanup and maintenance. However, handwashing your juicer regularly is also important.
Ideally, you want a unit that can be disassembled easily. That way, you can rinse the parts separately and wash them thoroughly before you put them back together. With this feature, you can also address clogging issues quite easily without having to fiddle around with tools.
Durability
Of course, you want the unit you buy to last you a good couple of years. Masticating juicers are not exactly a cheap investment. Make sure you check the quality of the materials used in its construction and assess if the unit can survive rough usage.
You want to get a unit that comes with minimal plastic parts. Tritan and Stainless steel are good material choices for a juicer, and even if it costs a bit more, it is often worth the added cost. in the long run
Frequently Asked Questions
1. Which masticating juicer is easiest to clean?
For people who own a juicer, one of the most frustrating things in the world is cleaning day. Cleaning a juicer regardless of its design is typically not an easy task. There are two main types of juicers that you can find on the market, centrifugal and masticating.
Centrifugal juicers, because of their working characteristics and design, tend to be the harder of the bunch to clean. Masticating juicers, on the other hand, tend to have a larger straining basket making it easier to clean it. You can also sometimes rinse this type of juicer and call it a day.
2. What can you put in a masticating juicer?
You can put most fruits and vegetables in the juicer that you want to drink. Popular fruit choices include apples, berries, grapes, kiwis, melons, pineapple, and many more. When it comes to veggies, you can use almost anything, including celery, cucumber, kale, and even broccoli.
However, you need to prep the produce before you put it in the juicer. This means you need to first wash the fruits properly and cut them up into little pieces. If the parts you put in the juicers are too large, it can make it difficult for the motor to extract nutrients. Additionally, there is a change the juicer gets clogged.
3. How long can you keep juice from a masticating juicer?
Typically, if the juicer causes minimal oxidation and you store the juice in a sealed jar the right way, you can keep it for 72 hours. You should not drink a juice that has been stored longer than that as it would taste bad and might even be harmful to your health.
4. Do masticating juicers retain fiber?
All types of juicers retain fiber to some extent. Even if you juice the fruits and veggies thoroughly, some fibers make their way to the drink in a dissolved form. If you want even more fiber, you can blend the pulp and add it to the juice.
5. Is Slow Juicer really better?
Slow juicers work by crushing the fruits and veggies instead of fully relying on the spinning blade. Because of this design, they tend to produce more pulp but also retain more nutrients. Furthermore, the low RPM of this type of juicer means less heat, which can also enhance the durability of the device.
Because of this reason, slow juicers are often considered the better form of juicers. However, these days you can find many centrifugal juicers that perform just as well as slow juicers.
Final Thoughts
A glass of juice every day, whether after waking up or before going to sleep, is a good habit. With the best masticating juicer, you will be able to maintain a healthy and sound body. We hope our list of recommended products helped you figure out the perfect unit for yourself.
---