---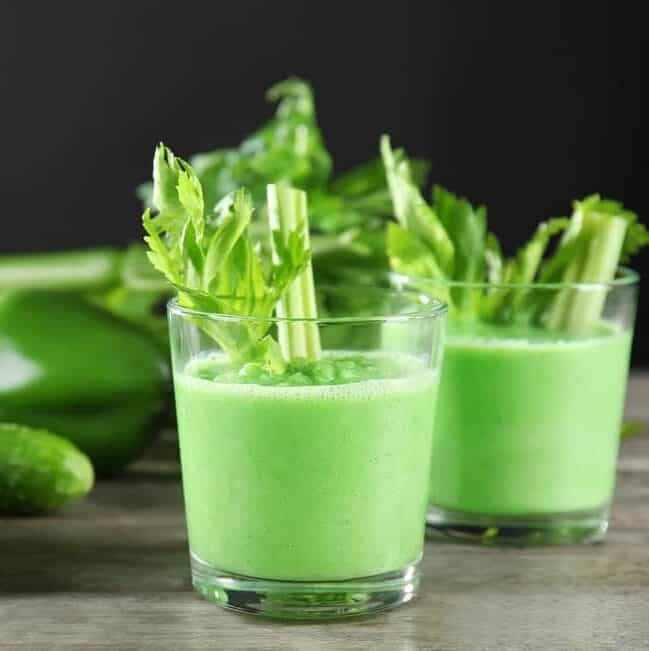 Drinking celery juice first thing in the morning is good for lots of diseases and guts issues. Even the celery leaves are loaded with vitamins and nutrients. Now, the tricky part is to get all the minerals, vitamins, and antioxidant out of the celery and into your glass.
If you are into Medical Medium and love Anthony William, you already know about the benefits of straight celery juicing. You can read his book for more information on that, but I'm going to get straight into juicing by using the best juicer for celery and greens.
In this article, I'll be showing you the best type of juicer for celery based on your specific needs and also go through some of the techniques that will help you get maximum yield from this herb.
Our Top Picks – Overview
A Quick Comparison of Our Favorites
IMAGE
PRODUCT
RATING
PRICE

BEST OVERALL

Aicok Slow Juicer

Quiet machine
Easy to clean up
Dishwasher safe
Pulp separation
Ideal for wheatgrass, celery, and greens

CHECK PRICE

BEST COLD PRESS

Tribest GSE-5000

Pulp extraction adjust
Twin-gear technology 
Masticating system 
Used as a versatile food processor

CHECK PRICE

BEST FOR CELERY

Omega MM900HDS

Endorsed by The Medical Medium 
Powerful motor 
Best for celery 
Super easy to clean

CHECK PRICE

BUDGET PICK

Omega J8006HDS

Rotates at a low speed
Vegetable juice only 
Nutrition-rich juice 
Heavy-duty system

CHECK PRICE

BEST CENTRIFUGAL

Breville JE98XL

Durable polymer body 
Stainless-steel blades
3″ wide feed chute 
Large pulp container

CHECK PRICE
10 Best Celery Juicer Reviews
In my opinion, based on my experience in juicing, these are the best juicer to make celery juice while keeping the nutrients and vitamin contents intact.
1. Aicok Slow Masticating Juicer
Horizontal juicers are better at dealing with wheatgrass and celery. When it comes to making celery juice, I will always recommend a slow masticating juicer. This juicer machine from Aicok, with its upgraded spiral system, is a prime example.
The slow masticating and grinding mechanism squeezes the maximum amount of juice from celery while reserving the minerals, enzymes, and vitamins. With this juicer, you can enjoy pulp-free celery juice with less foaming.
You can use it to juice beets, leafy greens, ginger roots, and many more. Another cool feature of this juicer machine is the design. It makes cleanup a breeze. If you want a juicer for celery juice, go with this one.
You won't have to worry about cleaning the celery fibers out of this juicer, either. The pulp separation function takes care of most of the fiber, and you only need to clean the strainer. Cleaning can be done in under 3 minutes.
Pros
Quiet machine that runs less than 60 decibels 
Easy to clean up and dishwasher safe parts 
Pulp separation function 
Ideal for wheatgrass, celery, and leafy greens
Cons
Not available in 220V model
---
2. Tribest GSE-5000 Cold Press Juicer
The Tribest GSE-5000 slow juicer is a complete masticating system that features bio-ceramic magnetic twin gears. In fact, the GSE-5000 is different than most other juicers out there for a couple of reasons.
GSE stands for Green Star Elite. As the name suggests, this one is designed to handle leafy greens like celery. There are no other juicers on the market that can produce this much juice from celery like this one.
You can truly say this is one of the best juicers for celery as it does an absolutely amazing job at juicing vegetables. The juice produced using the advanced impeller cold press system of this juicer can be stored longer.
The twin gears are designed to handle stringy and sticky vegetables like celery without getting clogged or tangled. It is powerful and also the most versatile juice extractor machine recommended by the pros in the industry.
Pros
Pulp extraction pressure can be adjusted 
Exclusive stainless-steel twin-gear technology 
A complete masticating system 
It can be used as a versatile food processor
---
3. Omega MM900HDS Juicer Medical Medium
The Omega MM900HDS is one of the few slow masticating juicers on the market that is designed to make celery juice. In fact, this is the only juicer that is actually endorsed by Anthony William from The Medical Medium.
He claims that this is the only juicer he has seen that can extract the maximum amount of juice out of celery. As I've said before, horizontal juicers are better than vertical juicers when it comes to dealing with leafy greens and hard produce.
This cold press slow juicer uses a dual-stage masticating extraction system that allows it to produce a high yield from minimum amounts of vegetables, fruits, wheatgrass, and other leafy greens.
For maximum celery juice extraction and output, this Omega juicer comes with an adjustable celery end cap attachment with adjustable pressure settings. In short, this is an excellent juicer with amazing performance.
Pros
Endorsed by The Medical Medium 
Powerful and quiet motor 
Designed for making juice out of celery 
Super easy to clean
---
4. Omega J8006HDS Dual-Stage Juicer
Juice all kinds of vegetables with the Omega J8006HDS slow-speed masticating juicer. This is a professional grade heavy-duty nutrition system that is designed to make vegetable juice without destroying the natural flavor.
In addition to celery, you can also make juice out of radishes, peppers, beets, and carrots. This juicer uses a powerful gear reduction mechanism, which has the same power as a 2HP motor.
The Ultem auger is made of hygienic U.S. FDA-approved melamine, which is eight times stronger than plastic and has a stone mill-like design. This guarantees fresh taste and full nutrition. The produced juice can be stored for up to 72 hours. Now, while it may look more like the Omega MM900HDS, there are actually some downsides. The pulp comes out wet if you use anything other than celery. Also, it is more expensive than the previous model.
Pros
Rotates at a low speed of 80 RPM
Designed to make vegetable juice only 
Produces nutrition-rich and fresh-tasting juice 
Heavy-duty auger system
---
5. Breville JE98XL Fountain Plus Centrifugal Juicer
The Breville JE98XL Fountain Plus has all the good qualities that make it a great celery juicer. Although it's a fast juicer, it can also handle fruits and vegetables really well. This one can extract most of the liquids from vegetables in one go.
If you prefer a smoothie with all the fiber intact, this centrifugal juicer can be a good choice since it has two-speed settings. The low speed is for softer produce, and the high-speed setting is ideal for leafy greens and vegetables.
This dual-speed juice fountain allows you to experience high-quality juicing at an entry-level price point. Less pulp, less foam, and more juice! It is also very easy to clean and very easy to take apart.
The heavy-duty and powerful 850-watt motor can quickly break hard veggies into a fine juice. Thanks to its extra-wide feed chute, you don't have to chop up your vegetables very often. It is wide enough to take whole veggies in.
Pros
Durable, heavy-duty polymer body 
Stainless-steel blades and mesh filter basket
Three inches wide feed chute 
Large pulp container
---
6. KOIOS Masticating Juicer Machine
The KOIOS slow juicer uses a 3-stage spiral warm auger that rotates at a slow speed of 80 RPM. This slow squeeze technology keeps the oxidation to a minimum preserves the essential vitamins and nutrients.
The juicer itself is durable and comes with two juicing programs. The soft button is for softer produce like fruits, and the hard juicing is for wheatgrass, leafy greens, and vegetables.
The reverse function lets you unclog the juicer and resume its normal operation. This is a masticating juicer with an improved auger system, which means you will get 60-80% more juice yield than standard slow juicers.
Also, it can transfer more vitamins from celery while keeping the color of the juice light. The durable auger squeezes and crushes the ingredient until it's completely dry. This means less product is wasted, and you are getting more juice.
Pros
Easy to assemble, use, and clean 
Upgraded spiral auger system 
Stainless steel fine mesh strainer 
Twin juicing programs (soft & hard)
Cons
Might need to cut down the veggies
---
7. Mueller Austria Centrifugal Juicing Machine
The Mueller Austria Ultra Juicer is well-suited for hard to juice ingredients like celery, herbs, sprouts, and leafy greens. It uses the masticating process to ensure the natural flavors are preserved, and the juice tastes fresh.
In some cases, the extra-wide feed chute allows you to use whole vegetables and fruits without any heavy food preparation. This juicer can produce a higher juice yield and less pulp separation.
When running, the noise level doesn't exceed 60dB. The patented low-speed technology ensures the juicer lasts longer. It has a low speed of 60 RPM, making it the slowest vertical masticating juicer on this list. It also includes safety features such as automatic shut off, which cuts power when the juicer becomes hammed or overheated. The instructions are clear, and you won't have a hard time figuring out the controls.
Pros
Two variable speed settings (low & high)
Durable DC motor that can go up to 18000 RPM 
Smart safety features to protect the juicer 
Extra-large juice container and pulp collector
Cons
Can't make juice out of beets
---
8. Aobosi Slow Masticating juicer Extractor
Juice effortlessly and get a healthy dose of vitamins and nutrients every day with the Aobosi slow masticating juicer. It has a powerful motor that results in higher juice and yield while preserving higher nutritional value.
The powerful motor and slow-speed extraction make it easy to make juice out of various veggies and fruits. In a few minutes, you can make juice out of celery, wheatgrass, ginger, apple, orange, and various other ingredients.
Assembly and disassembly can be done in minutes thanks to its safety lock design. Speaking of safety features, it also features a reverse function. This will unclog the juicer by rotating the auger in the other direction.
The detachable parts are dishwasher safe and made using food-grade anti-oxidation materials. You will also get a neat little cleaning brush as a bonus for a more thorough cleanup.
Pros
The auger spins at a speed of 80 RPM 
Powered by a 150W quiet motor 
Convenient reverse function 
Quick assemble and disassemble
---
9. Hamilton Beach Juicer Machine
Up next, we have a small vertical juicer machine from Hamilton Beach. This is a centrifugal juicer that is powered by an 800W motor. It's fast and can be used to juice a variety of vegetables and fruits.
It's a small, entry-level juicer machine that makes homemade juice in seconds. Even though the main juicer body is small, it has a pulp container that is almost as big as the juicer. It also features an extra-large 3-inch chute.
However, there is no juice container, and frankly, you don't need one. As for the cleanup, the removable parts and BPA-free and dishwasher safe. They are also easy to clean by hand.
As for its performance, the powerful electric motor can even turn beets into juice, which means you can easily make celery juice with the Hamilton Beach juicer extractor. It's also very affordable.
Pros
A powerful 800W motor 
BPA free and dishwasher safe parts 
East to take apart for cleaning 
A big mouth centrifugal juicer 
Cons
Only suitable for entry-level juicers
---
10. Cuisinart CJE-1000 Die-Cast Juice Extractor
Last but not least, we have the budget kind on this list. The Cuisinart CJE-1000 is an easy-to-use juice extractor that comes equipped with a 1000-watt powerful motor. If you are new to juicing, look no further than this one.
For the money, the CJE-1000 is a very good unit for juicing beets, carrots, celery, wheatgrass, and harder veggies and greens. It comes with a 1-liter juice pitcher and a 2-liter pulp container, and both of them are easy to clean.
It also comes with a cleaning brush. The die-cast and stainless-steel body give the juicer an elegant finish while also increasing its durability. It also protects the inner components from external damage.
The unique feature of this juicer is its five-speed settings, which can be controlled via the central knob/dial. Even at the highest setting, it runs surprisingly quiet and also stays cool for a long time.
Pros
Ideal juicer for hard and soft produce 
A 1000-watt powerful motor for raw power
Five-speed settings to deal with various ingredients 
Stainless steel and die-cast finish
Cons
The pitcher takes time to clean
---
Benefits Of Drinking Celery Juice
Around the world, thousands, if not millions, of people are enjoying the health benefits of celery juice. According to Anthony William (Author: Medical Medium), celery juice can restore your digestive health and acts as a miraculous yet powerful healing remedy.
When you consume plan celery juice in the right way, you can notice certain health benefits such as weight loss, better mental clarity, sustained energy, clearer skin, stable moods, improved digestion, and less bloating, just to name a few. What's more amazing about celery juice is that people are noticing miracles.
There are stories on social media about people healing from all kinds of chronic illness including acne, psoriasis, Hashimoto's thyroiditis, Anxiety, high blood pressure, acid reflux, blood sugar issues, migraines, constipation, SIBO, chronic fatigue syndrome and countless other from just drinking straight celery juice without any additives.
In short, celery juice works, and this is the reason why it is everywhere. Now, here is a fun fact. There are no scientific facts to prove the healing properties of celery. In fact, there are no studies to back up any of these claims. But a lot of people are seeing results. A lot of people are doing it and enjoying the benefits.
What Type Of Juicer Machine Is Best For Celery Juice?
Now, people think that celery is a vegetable. Well, you will be surprised to know that celery is actually an herb. For the best results, you should drink celery juice immediately. Now, when it comes to making it, there are a couple of ways to extract liquid from celery.
Obviously, you would want to use a juicer. For the best result, a slow juicer, aka a masticating juicer, is preferable. On the other hand, vertical juicers are better at dealing with celery than horizontal juicers.
So, why is that? Well, let's find out. First, you have to understand the difference between different types of juicers. In the following section, I'll be explaining just that.
Masticating versus Centrifugal Juicers
Celery is stringy and fibrous, and not every juicer is capable of extracting all the liquid out of this healing herb. If you make a mistake and use the wrong juicer, you will end up with a lot of sloppy mess.
You have two options. Either go with a masticating juicer or use a centrifugal juicer. If you care about nutritional value, which you should, by the way, then go with a masticating juicer because they produce the liquid slowly.
A masticating juicer's auger is designed to first cut the celery into small pieces and then squeeze and crush them to extract maximum liquid. This slow process ensures the natural vitamins, minerals, enzymes are preserved.
However, it doesn't make centrifugal juicers bad for celery. If you are short on time and want to make your juice as quickly as possible, a centrifugal juicer is a good option.
While a cold press, masticating juicer will give you the most nutritional value, a glass of celery juice produced using a centrifugal juicer will still have health benefits. If you are worried about noise, don't use a fast juicer.
Horizontal versus Vertical Juicers
By design, a vertical juicer isn't able to handle celery that well, and clean-up takes longer. On the other hand, a horizontal juicer has less cleanup and less labor. Horizontal juicers are the way to go if you want to easily deal with celery's stringy fibers. Even the pulp of celery is messy and tangled that becomes hard to clean.
The pulp outlet of a horizontal juicer is larger than that of a vertical juicer. Also, the feed chute is wider, which requires less chopping of veggies and herbs. Celery pulp can quickly clog the smaller pulp outlets of vertical juicers.
That said, even horizontal juicers do get clogged up sometimes, but that is if you make a lot of juice. These juicers also have a way to counter this problem via the reverse function. However, the best way to prep celery juice is if you take the time to finely chop up celery and then put it inside the juicer.
This way, you won't have to worry about clogging or cleanup. Before juicing, it's a good idea to chop up your celery into smaller bits instead of cutting them into long slices.
Slow Juicers vs. Fast Juicers
Now, I know what you are thinking. Aren't slow juicers and masticating juicers the same? Well, no. Even centrifugal juicers can be called slow juicers if they have low-speed settings. Since most masticating juicers are slow, it is pretty easy to get confused. That said, let's talk about the difference between the two.
First of all, slow juicers. There are units that can spin the auger at a speed of 80 RPM. Some can spin the augers even slow at a speed of 60 RPM. Slower, the better when dealing with celery. A slow juicer does all the extraction, squeezing, and crushing slowly, thus resulting in higher juice yield and dryer pulp.
Another benefit of a slow juicer is that it runs quietly. You don't want your juicer to be loud when you are making juice first thing in the morning. Fast juicers are terrible for celery because the heat and air then get into the juice.
Heat destroys enzymes, destabilizes vitamins, and ruins nutrients. On the other hand, air oxidizes your juice, which removes antioxidants. Celery is full of antioxidants, and you want to preserve it.
Single vs. Twin-Gear Juicers
Twin-gear juicers are expensive but well worth the investment if you are deadest on juicing for the rest of your life. However, for the price of a twin-gear juicer, you can easily buy three single gear/auger juicers.
The advantage of having two long gears is that the juicer will be able to break down the ingredient more efficiently and squeeze out almost 90% of the liquid. The gears rotate against each other slowly and break the ingredient into little pieces. After that, both gears create a squeezing pressure to produce juice.
If you have the money to spend, twin-gear juicers are your best option for celery juice. You will get consistent and precise output every time as well as more juice yield. However, that extra juice you are getting doesn't justify the price.
If you have other uses for a twin-gear juicer, then it is worth buying. However, if you only plan on making celery juice, the next best thing is to go with a good masticating juicer and save the money to buy organic produce.
Factors To Consider When Buying The Best Celery Juicer
By now, you already know the best type of juicer to make celery juice. However, there are some features/functions that can make the whole process of juicing much easier. Let's have a look at some of these factors.
Wide Feed Chute
It is really important that the juicer you are going to buy has an extra-wide feed chute. 3-inch is preferable because you can easily put whole fruits and vegetables through it. It will also save a lot of prep time because you don't always have to finely chop up your ingredients.
Reverse Function
It is very common to see a juicer getting clogged, especially when dealing with hard vegetables and herbs. The best way to counter this problem is by using the reverse function. It will rotate the auger in the other direction to unclog the juicer.
Pulp Separator
A good pulp separator is a must because it takes care of all the loose ends for you. You won't have to worry about scrubbing the inner parts of the juicer because the pulp separator will take care of most of the pulp.
Noise Level
Now, about the noise level, there are things in life that you can't do anything about. For example, if you already own a centrifugal juicer, it will be as loud as a blender. On the other hand, a slow masticating juicer will be quieter. It's up to you to decide which one you think will be useful.
Easy Cleanup
Celery juicing can get messy. That's why you should look for a juicer that is easy to clean. A one-click disassembly feature is a must.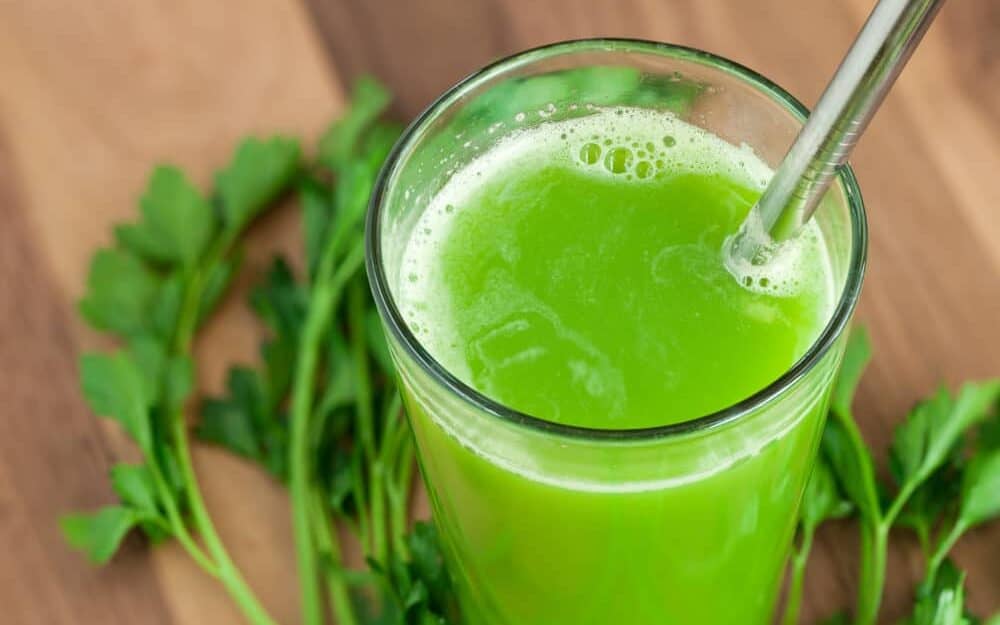 Frequently Asked Questions
1. Can you use regular celery for juicing?
It is really easy to make celery juice. You will only need the stalks. However, it is better to use organic celery because most farm-grown celery is often sprayed with pesticides, which can be harmful if consumed directly. You can also use regular celery but make sure to wash it properly before juicing it.
2. Is celery good for juicing?
Yes. While the health benefits aren't scientifically proven, but thousands of users have found and experienced numerous health benefits in one way or another. It's all over social media, and people are sharing their success stories every day.
So, it is safe to assume that celery is good for juicing. You can check out the Medical Medium for more information.
3. What happens when you drink celery juice every day?
Drinking celery juice every day will have a life-changing effect on the body. While it won't give you all the nutrients to fuel your body, it will certainly be a good start. There is no scientific evidence that claims the health benefit of celery juice, but at the same time, it doesn't have adverse side effects, so it is worth a shot.
4. What can I add to celery juice to make it taste better?
First-time celery drinkers know very well how strong the flavor is. It takes time to get used to, but there are ways you can reduce the bitter/strong taste of celery. For starters, you can try adding lime, apple, or cucumber to add some sweetness to the juice. 
As you get used to the flavor, you can increase the ratio of celery, and after some time, you can easily consume straight celery without adding any fruits and veggies. However, celery works best if taken alone.
5. Can you use a citrus juicer for celery?
Citrus is a soft ingredient, while celery is more of a stringy ingredient. And no, you should not use a citrus juicer for celery because not all the juicers out there are capable of handling such fibrous produce.
6. How long does celery juice last in the refrigerator?
The best way to consume celery is right after you juice it. If you can't drink it immediately after juicing and don't have any other options, you can store celery juice for 24 hours. That being said, you will need a mason jar with an airtight lid to store celery juice and store the jar in the fridge. 
7. How to consume celery juice?
Celery, in order to receive its healing properties, you will need to drink it correctly and successfully. And the correct method of consuming this potent drink is to juice it solo. Don't mix it up with any other fruits or veggies. Straight celery juice is effective against chronic illness when consumed on an empty stomach.
Final Verdict
It's time to declare the winner. So, which celery juicer is right for you? Now, if you want the best value, then go with the Omega MM900HDS as this is currently the best juicer for celery on the market. It is designed to handle celery and extract the maximum amount of liquid from this ingredient.
On the other hand, if you are looking to make a long-term investment, the Tribest GSE-5000 twin-gear masticating juicer is a good choice. It is more expensive, but it will also serve you well and make consistent celery juice for years to come. Now, both of these are slow juicers, and not everyone has the time to wait for that long. In that case, you would want a fast centrifugal juice that will give you a high yield. For that, the Breville JE98XL Juice Fountain Plus will work really well.