---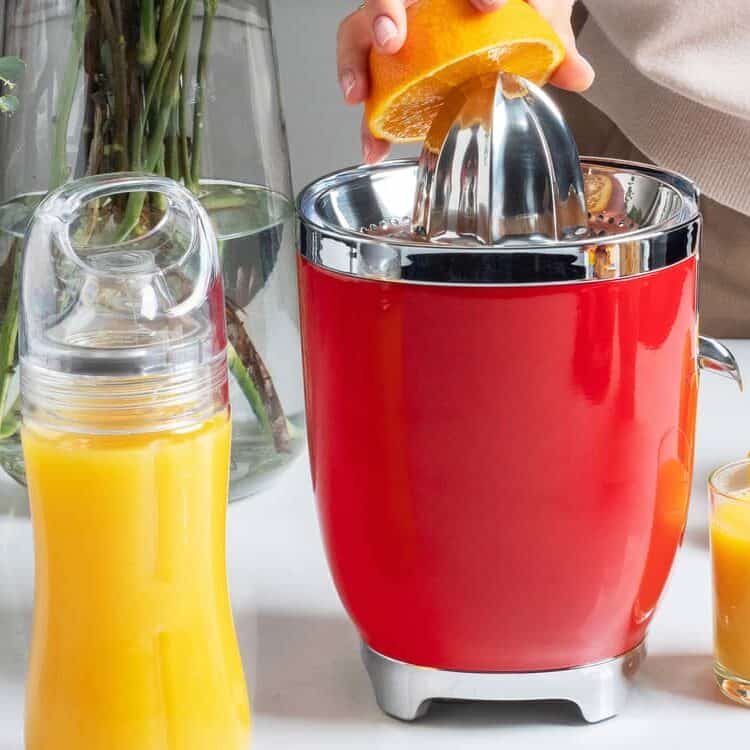 The best way to make juice from citrus fruits is by using a juicer squeezer. The best juicer squeezer will give you the best-tasting juice without the bitter taste of seeds or skins.
In this roundup, we will be taking a look at a couple of different options out there when it comes to juice squeezers.
The Juice squeezer is a bit different than your regular juice press. Although they have the same functionality, this term often refers to smaller variants. Most likely, you will find squeezers that are hand-operated.
However, there are a couple of electric juice squeezer machines on the market that are just as good. Here are some of them.
Our Top Picks – Overview (In 2021)
A Quick Comparison of Our Favorites
Top 5 Best Manual Juice Squeezer Reviews
From bowl with dome-type hand press models to electric rotating squeeze juicers, there are plenty to choose from. Here are some of the top-rated hand juicers to narrow down your search.
1. Lemon Squeezer Hand Manual
Features At A Glance:
Durable zinc-allow construction
Ergonomic handle shape
Large 2,75-inch bowl
Squeezes a lot of juice in one time
Dishwasher safe.
Let's start with a basic juice squeezer. I'm sure you are all familiar with this type of juicer squeezer. This manual citrus press juicer has a large 2.75-inch bowl which is larger than most common press juicers on the market.
This lemon squeezer is from a brand called RASSE, which isn't that popular, but this product easily beats the rest of the hand press on the market in terms of quality. The RASSE lemon squeezer can easily squeeze a cup of juice at one time.
This lemon squeezer manual juicer is made using durable zinc-alloy that is rust-proof, and the high-quality construction ensures a long life of use. With this material quality, you won't have to worry about food safety.
In addition to that, it's also very easy to clean as it is dishwasher safe. The design is very ergonomic and easy on the hand. The comfortable handle allows for effortless squeezing, thanks to the ergonomic design.
Pros
Moisture, heat, and corrosion resistant 
Larger bowl for more juice extraction 
Easy to clean and store 
Food safe material construction 
Cons
Only for lemons and limes 
It needs to be cleaned regularly 
---
2. Eurolux ELCJ-1700 Electric Citrus Juicer Squeezer
Features At A Glance:
Universal juicing cone
Maximum juice extraction
Automatic on and off function
Soft rubber grip handle
A 160-watt motor.
Up next, we have an electric juice squeezer that is actually a combination of a manual juice press with the addition of a 160-watt motor. It features a universal juicing cone that can fit any citrus fruits and extract maximum juice.
To ensure a cleaner and richer juice extraction, this electric juice squeezer features an integrated filter that captures all the pits. The handle has a soft rubber grip, and when you apply pressure, the machine automatically starts.
To stop the machine, all you have to do is release the pressure. The soft rubber grip handle reduces pressure on the hard and works as the manual juice presser, and the motor does the rest to extract every drop of juice from the fruit.
Even though it's a compact unit, it is surprisingly stable thanks to the suction cups underneath this juicer. The cups are designed in a way to prevent table surface marring. It's also very easy to clean since most of the parts are detachable. 
Pros
Non-marring suction cups to keep it stable 
Automatic start and off function 
Detachable juicer parts for cleaning 
Stainless steel filter and locking spout 
Cons
It doesn't squeeze all the way through 
It takes some time to clean properly 
---
3. Aicok Electric Orange Juicer Squeezer
Features At A Glance:
Brushed stainless steel construction
BPA-free
food-safe parts
100-watt ultra-quiet motor
Two interchangeable cones
Sleek design.
This electric citrus juicer squeezer from Aicok is a small yet powerful machine that is perfect for juicing lime, lemons, grapefruits, and oranges. The main juicer body is made using stainless steel, and the rest of the parts are BPA-free plastics.
Rest assured, all the parts are food-safe and durable. The sleek design of this juicer looks really nice on the countertop. The 100-watt motor ultra-quiet motor allows you to quietly make juice in the morning without waking anyone up.
This brushed stainless steel electric juicer also comes with two interchangeable cones. The small one is for lemons and limes, and the big one is for grapefruits and oranges. In addition to that, it also has an efficient filtration system.
The juicer body is very stable when running. The compact design makes it easy to store too. As for the cleanup, all the parts are easily detachable and dishwasher safe, which makes cleanup very easy.
Pros
Anti-drip spout and comfortable handle 
Brushed stainless steel body 
BPA-free plastic parts that are removable 
Sleek design and compact form factor 
Cons
It can only make small batches of juice 
It doesn't have a handle 
---
4. Homeleader Citrus Juice Squeezer
Features At A Glance:
Pressure sensor system
Two stackable cones
Brushed stainless steel construction
Silent yet powerful motor
Easy assembly and disassembly.
We are almost at the end of this roundup, and the second last juice squeezer we have here is from Homeleader. It has all the necessary features like a silent and powerful motor, a good filtration system, auto start/off, and many more.
There is no on/off button. You simply cut your citrus in half and push it down, and when you apply pressure, the juicer will start rotating and start extracting all the juice out of your citrus fruit. You can change the cone depending on the fruit.
This juice squeezer comes with two separate cones for citrus for larger and smaller fruits. As for the main body, this too is made using professional brushed stainless steel and BPA-free plastic parts. 
This juicer allows you to decide how much pulp you want to go out with the juice. You can lock the stainless-steel spout so that the extracted juice stays in the juicer and unlock it when you want to pour out all the juice. It's nice and sturdy.
Pros
Good filter design to eliminate pits and pulps
Anti-slip silicone pad for stability 
Easy to clean BPA-free plastic parts 
Drip-less stainless-steel spout design 
Cons
A bit noisy when under pressure 
The small cone is too small for regular sized limes 
---
5. HIC Citrus Juicer Reamer Squeezer
Features At A Glance:
Hardwood material construction
Sharp and pointy tip with deep ridges
Smooth finish and easy to hold
Resists damage caused by citric acid.
Sometimes, the simplest items can give the best result. For example, this juicer reamer from HIC is a prime example. Within seconds, you will be able to effortlessly juice lemons, oranges, limes, and other citrus fruits with this wooden reamer.
This juice squeezer is made from hardwood that makes it durable and longer-lasting. This one is able to resist damage from the citric acid that citrus fruits contain. If you don't want electric squeezers, this one is a more economical choice.
Although your hands are bound to get messy but using this one will extract more juice. Thanks to the deep ridges and pointer top, you can squeeze and extract fresh juice much easier than using a manual hand press. If you want to enjoy fresh-squeezed orange or lemon juice, this classic manual/hand juicer is the perfect tool for the job. Cleaning this tool is a breeze, and due to its compact size, storage is very easy.
Pros
Ideal reamer for juicing citrus fruits 
Economical choice 
Easy to use compared to hand press juicers 
Effortless juicing in seconds 
Cons
Not ideal for making large batches of juice
Can't catch seeds or pulp 
---
What To Look For When Buying A Lemon Squeezer?
Design-wise, most lemon squeezers will have a similar look and shape. However, some manufacturers make the bowl size larger and change the cone shape to exert more pressure.
However, the most important thing to look at is the build quality. You want something that is food-safe, won't corrode or rust, and is easier on the hand. As for the material, stainless steel is preferred. You can also go with zinc alloy material.
Are Juice Reamers The Same As Squeezers?
Yes. A reamer is, in fact, better at extracting more juice out of limes and lemons because of the pointy tip and deep ridges. Make sure to squeeze your fruit and rotate the reamer at the same time if you want to get a lot of juice.
Are Electric Juicer Squeezers Any Good?
It depends on the brand that you choose. There are a lot of good-quality juice squeezers that come with an electric motor.
In terms of efficiency, these units are better than regular squeezers because you can have the advantage of pressure your citrus fruit and the power of the motor to extract the juice.
Final Words
As you have seen by now, there are plenty of juice squeezers on the market. However, the best juicer squeezer will be the one that can extract the most juice in the shortest possible time. For example, if you have to squeeze a lot of lemons, I suggest you go with the Eurolux ELCJ-1700 electric citrus juicer squeezer.
Related Product Reviews:
---